Beaucoup de ressources en éducation et en formation sur Second-life
Educh.ch se devait donc de s'ouvrir progressivement à ce nouvel espace sur internet. Ce qui explique notre nouvelle catégorie
Formation Education et Second life.
Nous réjouissons donc de participer avec vous à la découverte de ces nouveaux espaces en ligne . Comme toujours pris entre craintes et enthousiasme, nous partagerons avec vous nos découvertes.
Avec comme vous le savez toujours la même ligne d'information qui est de vouloir défendre la qualité et la réflexion, avant de mettre en avant l'apparence souvent trompeuse dans ces mondes virtuels. Mais trêve de blabla.
Nous vous invitons donc à découvrir second life déjà bien sur a vous ouvrir un compte gratuit en effet pas besoin de dépenser d'argent pour découvrir second life heureusement.
Venez bien sur visiter l'espace romand qui se compose pour l'instant de plusieurs intervenants et aucun dans le domaine de l'éducation pour l'instant. On attend bien sur que Ciao débarque ou qui sait avenir social :-)).
Bon plus sérieusement la meilleur manière de découvrir Second life français est la visite de gaia
Gaia est un espace francophone d'initiation au second-life style.
Ensuite bien sur pour la Suisse romande l'excellente et magnifique ile de la BCV, une banque a su méler art et  modernité Bravo!
http://slurl.com/secondlife/BCV%20Island/175/77/32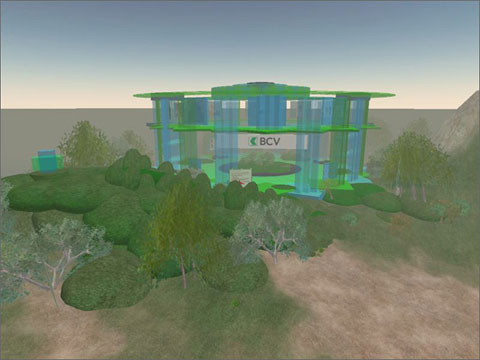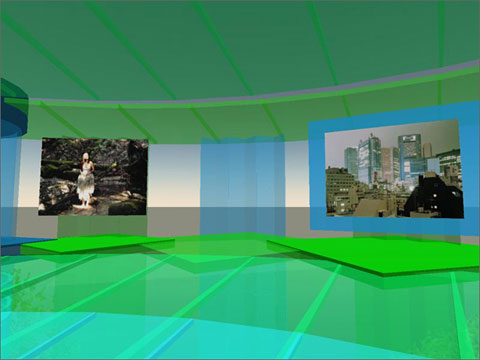 La Bcv y expose des oeuvres qui lui appartiennent, l'idée est génial et permet de découvrir un aspect plustôt sympa de second life.
Autrement une sympathique équipe de romand a développer suisse plage
Lieu de rencontre de nos compatriotes
LIEU DE RENCONTRE
ET FORUM
 
POUR LES UTILISATEURS DE SECONDLIFE.
Officiel second life http://www.secondlife.com/
Espace education http://secondlife.com/businesseducation/education.php
Ressources actuelles en éducation sur SL http://www.simteach.com/wiki/index.php?title=Second_Life_Education_Wiki
Quelques ressources complémentaires sur www.simteach.com
Second Life Education Wiki
From SimTeach
A virtual world resource for educators and academics
Why Second Life?
Second Life provides a unique and flexible environment for educators interested in distance learning, computer-supported cooperative work, simulation, new media studies, and corporate training.
Second Life provides an opportunity to use simulation in a safe environment to enhance experiential learning, allowing individuals to practice skills, try new ideas, and learn from their mistakes. The ability to prepare for similar real-world experiences by using Second Life as a simulation has unlimited potential!
Students and educators can work together in Second Life from anywhere in the world as part of a globally networked virtual classroom environment. Using Second Life as a supplement to traditional classroom environments also provides new opportunities for enriching existing curricula.
For a fantastic summary of Second Life focusing on educational and serious applications, please check out Real Virtuality in your Second Life and beyond. If you'd like to learn more about the history of Second Life, take a look at the SL History Wiki. For a comparison of Second Life and other virtual world platforms, check out Oz Spade's Virtual World Comparison Page.
A comprehensive and up-to-date list
Other Communication Outlets
Second Life Educators' Forum
The SLED Forum has a list of topics and threads that pertain to many aspects of education in SL. If you want to have on-going discussions with colleagues outside the SLED Listserv (see above), please check out the Forum area. Many interesting topics are already listed. If you wish to post, you can register for free.
In-world Groups
Second Life has a number of active groups who collaborate inside the metaverse and who keep intouch using the group system tools. To join a group click the "Find" button and search under Groups for "Education"
Real Life Education in Second Life for people who are interested in the educational possibilities of Second Life.
find colleagues and collaborators to help you with your education work in Second Life
anyone may join
contact group owner Pathfinder Linden inworld if you have any questions
Second Life Grad Student Colony
for support in research, dissertation writing and promoting collaboration among researchers/student researchers
limited to students pursuing advanced degrees
contact group owner naiad - bbovard at nmsu.edu
To help ensure ethical treatment of subjects and to promote collaboration
Limited to academics pursuing IRB-authorized research projects covered under SL's Terms of Service and research ethics policy
Other in-world groups
There are large range of other in-world groups dedicated to Real-Life education. Please feel free to add details here:
Educational Pricing on Private Islands
Private Islands provide the ability to create secure "intranet" spaces with restricted membership for your students and faculty, or you can open it up to be accessible to everyone in Second Life. Linden Lab offers a discount for Private Islands to educational institutions and non-profit organizations, and you can find details on the Private Island order page.
For a list of Real Life Universities that are using Private Islands in Second Life, please see Second Life: Universities and Private Islands
Academic Research
Be sure to join the SL Educator's listserv.
The Association of Internet Researchers has a document about research ethics available.
An Important Reminder for Educators about the Teen Grid
The main Grid of Second Life is for adults only (18+). We also have a Teen Second Life, and that world is strictly for teens (13-17).
We don't allow anyone under 18 years old in the adult world of Second Life, and likewise we do not allow adult Residents (18+) on the mainland of the Teen World. Both of these worlds are separate from each other, and we do not allow inworld travel or communication between them.
Teen Second Life is a world for teens, created and shaped by teens. Please remember that falsely registering as a teen to gain access to Teen Second Life is a serious offense, and cause for permanent banishment from all of Second Life.
The only adults allowed on the mainland in Teen Second Life are Linden employees. If you are an educator and want to work with teens in Teen Second Life, there is the opportunity to buy a private island on the Teen Grid and participate, but you will not be able to leave that island and visit the Teen Grid mainland. Teens from the mainland will be able to visit your private island if/when you choose, but they will be automatically informed that there are adults present. Also, if you are planning to use a private island on the Teen Grid to interact with teens from the mainland, we will need to run a background check on you for security and safety reasons.
If you'd like more details about getting a private island for education work on the Teen Grid, please see Second Life: Educators Working with Teens.
Classroom documents
---
In-world Teaching Links
This site needs mirrors badly! Please download the archive and load it to your media wiki site. Announce the mirror address here.
Autrement pour rire un peu visionner cette vidéo youtube en cliquant simplement au milieu de l'image il y a de quoi rire ;-)